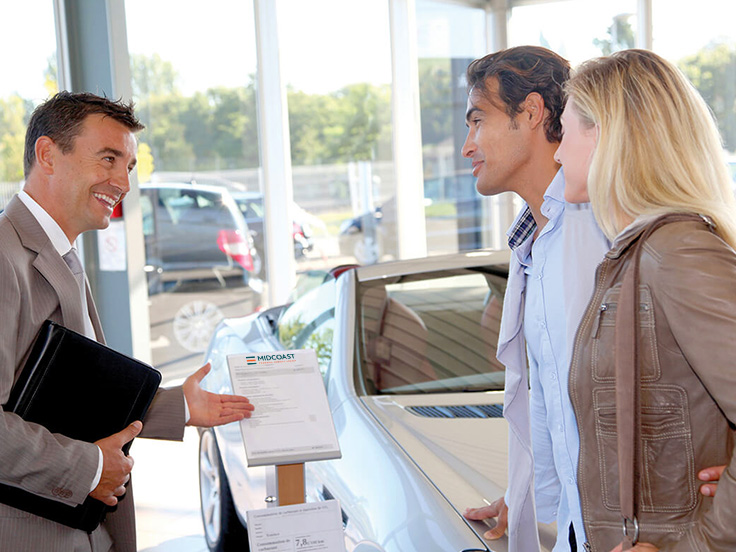 At Dealer Auto Loans!

We've made financing your vehicle even easier! Now, preferred car dealerships can offer you a Midcoast FCU auto loan!
Members now have the added convenience of Midcoast auto loan financing directly at the dealership. Visit one of our Preferred Dealerships for your next Midcoast FCU auto loan!
See list of dealers below:
Auburn, ME
Advance Auto Sales / Lee Nissan
Auto City of Maine
Evergreen Subaru
Jim's Auto Sales
K&R Auto Sales
Lake City Exports
Lee Credit Express
Lee GMC Honda
Augusta, ME
Charlie's Honda
Charlie's Motor Mall
Charlie's Subaru
Charlie's Toyota
Darlings Chrysler Dodge Hyundai
Lee Credit Express
North Country Harley Davidson
O'Connor GMC Chevy Buick
O'Connor Volkswagen
Paul Blouin Performance
Bangor, ME
Bangor Motor Sports
Darlings Ford Volkswagen Audi
Darlings Honda Nissan Volvo
Darlings Value Center
Harvey RV's
Hermon Motors
Linnehans Right Way Auto
Prays Auto Sales
Quirk Cars By Us
Quirk Chevrolet
Quirk Chrysler Dodge Jeep Ram Fiat
Quirk Hyundai Mitsubishi
Quirk Subaru
Van Syckle Kia
Varney GMC
Belfast, ME
Mainely Used
Quirk Ford
Stanley Chevrolet Buick
Brewer, ME
Down East Toyota
Greenpoint Auto Sales
Bridgton, ME
Brunswick, ME
Bodwell Motors
Darlings Brunswick Ford
Goodwin's Chevrolet Mazda
Calais, ME
Clinton ME
Detroit, ME
Dover-Foxcroft ME
Ellsworth, ME
Credit Now
Darlings Auto Mall
Darlings Chevrolet
Friend and Friend
Linnehans Right Way Auto
Farmington, ME
Farmington Ford
Franklin Chrysler Dodge Jeep
Hight Chevrolet Buick GMC
Gardiner, ME
Hallowell, ME
Hampden, ME
Harpswell, ME
Houlton, ME
Houlton Powersports
North Country Auto
Yorks of Houlton
Lewiston, ME
Central Maine Powersports
L-A Harley Davidson
Lake City Exports
Lincoln, ME
North Country Auto
Pelletier Ford
Libson Falls, ME
Madison, ME
Charlie & Son Sales and Service
Hight Chrysler Dodge Jeep
Manchester, ME
Newport, ME
Darling's Chrysler Dodge Jeep Ram
Varney Ford
Norway, ME
Oakland, ME
ABL Automotive LLC
Waterville Ford / Ray Haskell Ford
Orono, ME
Oxford, ME
Goodwin's Chevrolet Buick
Pittsfield, ME
Maine Central Motors
Varney Chevrolet
Portland, ME
Presque Isle, ME
North Country Auto Presque Isle
Raymond, ME
Rockland, ME
Quirk Chevrolet GMC
Shepard Cars
Shepard Motors / Shepard Toyota
Sabattus, ME
Sabattus Auto & Truck Sales
Saco, ME
Bill Dodge Kia
Bill Dodge Nissan
Lee Credit Express
Scarborough, ME
Searsport, ME
Gregs Auto Sales
Searsport Motor Company
Skowhegan, ME
Cold Brook Mitsubishi
Hight Chevrolet Buick GMC
Hight Ford
South Berwick, ME
Topsham, ME
Goodwin's Volvo
Lee Auto Malls Topsham Toyota
Lee Nissan
Turner, ME
Union, ME
Kirkpatrick Sales & Rentals
Waldoboro, ME
Waterville, ME
Central Maine Chrysler Dodge Jeep Ram Fiat
Central Maine Chevy Buick
Central Maine Toyota
Hamlins Marine Waterville
Thompson Volkswagon
Trailside Performance
Wells, ME
Westbrook, ME
Bill Dodge Auto Group
Lee Dodge
Wilton, ME
Windham, ME
Winthrop, ME
Charlies Chevy
Wiliams Trailer
Wiscasset, ME
Yarmouth, ME
Not a Member Yet? You can join online!
It takes just about 10 minutes to apply! Open an account online anytime.