Moving Money Made Easy by Midcoast
Our new digital banking application makes moving money easier and more convenient than ever. Read on to learn of all the ways you can transfer funds and make payments to and from your Midcoast accounts and external sources.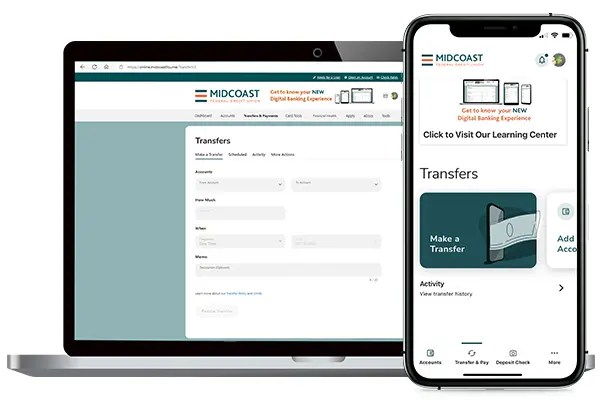 The following options are available in the Transfers and Payments menu:
Make Transfers and Payments – Schedule one-time and recurring transfers and loan payments to registered transfer accounts and Midcoast loans. Registered accounts can now include another Midcoast member's accounts and deposit accounts that you may have at other financial institutions.

Another Midcoast Member Account – This feature allows you to deposit into another Midcoast account of which you are not an owner (i.e., friend, co-worker, or grandchild account). Note: Member account number is required.

External Accounts – External accounts can be added automatically using your online credentials or manually by entering the Routing and Transit number and MICR number found on your check stock from the other financial institution.

Go to Make Transfers/Payments > More Actions > Add Account and follow the system prompts to get started.
Pay from External Account: Use this option if you have a Midcoast loan and would like to make a payment from an external source.
Pay Bills: If you are using our free and unlimited Bill Pay service, you will enjoy the new user experience and ability to pay multiple payees at one time. If you are not yet a user, enroll today!
You can also request a Credit Union check to be sent to the account holder on record. For this service navigate to Accounts > Request A Check Withdrawal. 

Coming Soon!  In a future release, you will have the ability to request wire transfers from within digital banking! 

We hope that you enjoy the ease and convenience of these money movement solutions and if you need assistance with these or any of the features in our digital banking platform, click on the CHAT icon within the application or contact our eBranch at 877.964.3262.
Still need to add the app?