Convenient "Snapshot view" of your balances available with our Digital Banking!
One of the great features of Digital Banking application is the Snapshot.  View your account balance details – no app login required! This new feature can be activated with the toggle of a switch!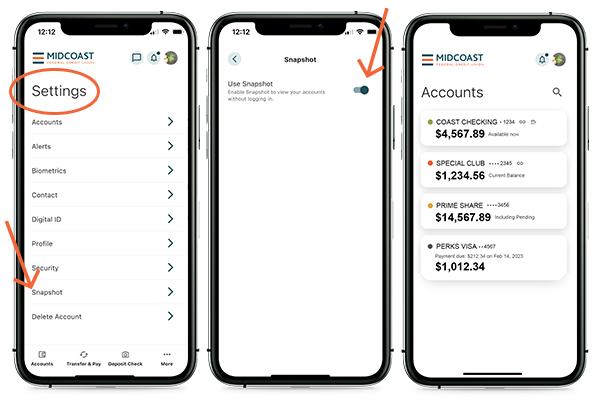 Follow these steps to get started:
For your security, you need to opt in to the Snapshot feature.
1) Tap the More … icon in the mobile application to display the menu.
2) Select the Settings menu from the Utilities section.
3) Select Snapshot from the settings menu.
4) Toggle the switch "Use Snapshot" to on. (color will turn from grey to teal)
5) Click the back arrow to return to the menu.
6) The next time you access the Digital Banking app, your account balance details will be displayed for your quick reference. Should you wish to turn this back off, simply follow the same steps but toggle the switch back to the off position.

If you need assistance with Snapshot, or any of the features in our digital banking platform, click on the CHAT icon within the application or contact our eBranch at 877.964-3262