Friday Lunch Recipes
On the first Friday of every month, our very own Chandra T volunteers her time to prepare meals for the Freeport Community Services "First Friday Free Lunch Program." Her meals are so delicious, that we often receive requests for her recipes. Please enjoy!

CHICKEN & SAUSAGE JAMBALAYA
(Serves 8) This one pot recipe comes together in about a half an hour and can be tailored to suit even the pickiest eaters! The sausage drippings are the heavy flavor lifter here, so don't drain the pan.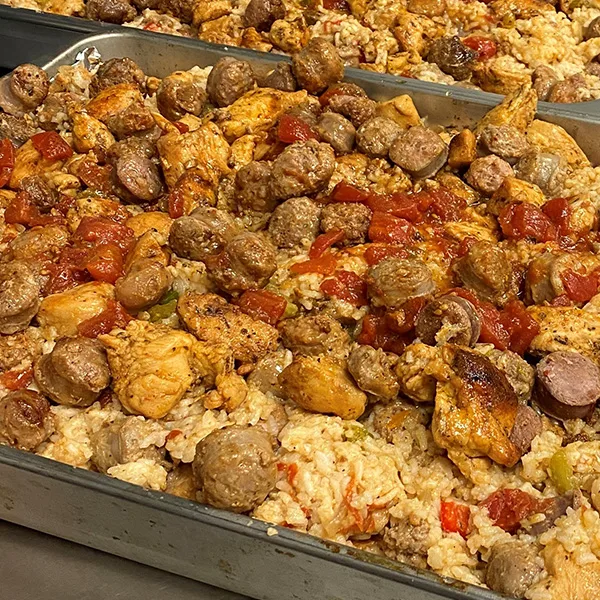 Ingredients
2-3 chicken breasts (depending on size)
1 tablespoon Canola Oil (or any oil you have on hand)
2 pounds Skinless Chicken Thighs or Breasts, boneless, cut into 1 1/2-inch cubes
1 pound Smoked Sausage, cut into 1-inch pieces
1 Large White Onion, chopped, about 2 cups
1 Large Green Bell Pepper, chopped, about 1 1/2 cups
1 cup Celery, chopped, about 1 stalk
3 Garlic Cloves, minced
2 Bay Leaves
2-3 tablespoons Creole Seasoning (to taste)
1 teaspoon Dried Thyme
1 teaspoon Dried Oregano
2 cups Uncooked Rice
3 cups Chicken Broth
2 (14.5 ounces) cans Fire-Roasted Tomatoes (diced)
add Scallions (sliced, optional)
Salt & Pepper to taste
Method
Heat oil in a Dutch oven or large pot over medium-high. Add chicken and sausage, and cook, stirring constantly, until browned on all sides, 8 to 10 minutes. Remove with a slotted spoon and transfer to a plate. Set aside and save those drippings! Add onion, bell pepper, celery, garlic, bay leaves, Creole seasoning, thyme, and oregano to hot drippings; cook over medium-high until vegetables are tender, 5 to 7 minutes. Stir in rice, and cook until fragrant, about 3 minutes. Don't skip this step; toasting the rice adds a surprising amount of depth to the dish. Stir in chicken broth, tomatoes, chicken, and sausage. Bring to a boil over high. Cover, reduce heat to medium, and simmer, stirring occasionally, until rice is tender, about 20 minutes. Garnish with sliced scallions if you like them. Serve with corn bread*!
Notes
Substitute whatever protein you have on hand; shrimp, tofu, beef, etc.
If the dish seems too soupy once the rice if cooked, let it go an additional 5-10 minutes with the lid off the pot to allow some of the excess liquid evaporate.
If your rice isn't fully cooked and the dish seems too dry, add more stock or water and cover. Be careful when adding more liquid, don't get crazy!
This recipe feeds 8 people but can easily be halved to suit a 4 person dinner.
Don't have Creole Seasoning on hand? No problem! Here's a recipe to make your own:
Creole Seasoning Ingredients: Mix ingredients together in a bowl. Store in an air-tight container for up to 3 months.
6 tablespoons Paprika
4 tablespoons Garlic Powder
2 tablespoons Onion Powder
2 tablespoons Cayenne (or more for a spicier version)
2 tablespoons Black Pepper
2 tablespoons White Pepper
2 tablespoons Dried Oregano
2 tablespoons Dried Basil
2 tablespoons Dried Thyme
Use fresh veggies if that's your preference or what you have on hand, just be sure to sauté them. I guess you could chuck them in the pot raw, but I wouldn't.
You could easily make this a one pot meal by using the same pot to brown your meat, it's up to you!
Again, make the recipe your own! Use the ingredients you like best and have on hand.
*Chandra's Top Secret Cornbread Recipe– shhh!
Shhhh…don't tell anyone, but the secret ingredient is… 1 box Jiffy Cornbread Mix
Method:
Prepare as directed on the box. 😊
Notes:
Don't give me a hard time about using Jiffy Mix. It's an excellent shortcut and super affordable!
For a less crumbly cornbread, add an extra egg or an additional 1/3 cup oil.
Add the flavor boosters of your choice! Got a sweet tooth? Add honey. Like it spicy? Add chopped fresh or pickled jalapenos. Feeling cheesy? Add a cup of shredded cheese. The possibilities are endless!