Friday Lunch Recipes
On the first Friday of every month, our very own Chandra T volunteers her time to prepare meals for the Freeport Community Services "First Friday Free Lunch Program." Her meals are so delicious, that we often receive requests for her recipes. Please enjoy!
Easy & Economic Salmon Burgers
(Before you say, "Ewww! Canned salmon!", hear me out. With rising costs at the grocery store, the price of fresh fish can be beyond some household budgets. Utilizing tinned fish like tuna, sardines, and salmon in new ways is an excellent way to stretch your dollars.)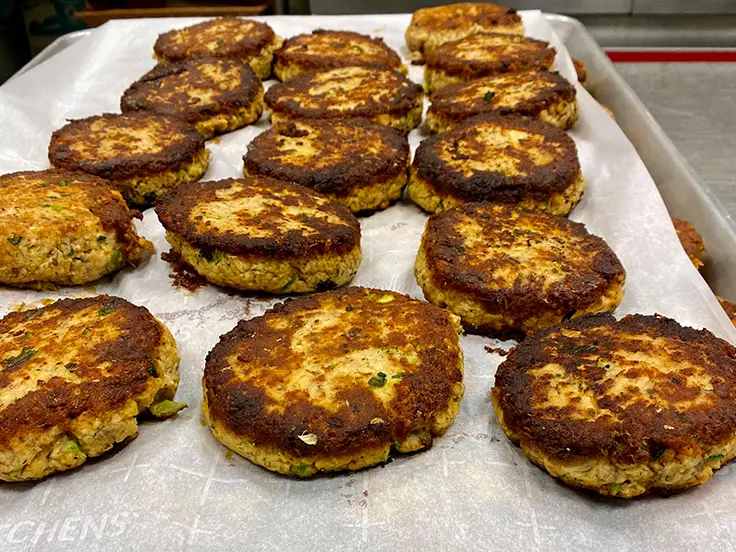 Ingredients:
1 14.75 oz can salmon, drained (or 2 smaller cans if that's what you've got)
1 rib of celery finely diced
1 small white onion finely diced (or green onion, shallots, whatever you have)
1-2 eggs (sub ½ cup mayo if you don't have eggs)
½ cup bread crumbs
Zest and juice of 1 large lemon
2 TBS Dijon mustard
2 TBS chopped fresh parsley (1 if using dried)
3 TBS chopped fresh dill (1 – 2 if using dried)
4-6 TBS cooking oil (canola, vegetable, peanut, etc.)
Salt & Pepper to taste
Burger buns of your choice
Method:
With the exception of the cooking oil, add all ingredients to a large mixing bowl and mix until well combined. It's easiest to do this with your hands, but I recommend wearing gloves to avoid smelling like salmon for the rest of the day. You want the mixture to be moist enough to stick together, but not wet. Once you have your salmon mixture to the consistency that makes you happy, form into 2-3 medium sized patties.
Heat your oil in a large skillet over medium high heat until shimmering. You want your oil HOT before you add your patties or they will stick to the bottom of the pan. Cook your patties on both sides until golden brown, about 3-4 minutes per side. Transfer to a plate lined with paper to drain. Serve hot on toasted burger buns with tartar sauce or condiment of your choice.
Notes:
These patties will be fragile! Chilling the formed patties in the fridge or freeze to firm up before cooking will help them to hold together during cooking.
You will find small bones in your fish. These are edible and will mostly disappear during mixing and cooking, but you can always remove them prior to adding the other ingredients if it freaks you out.
Watch out for oil splatters and always flip your patties AWAY from yourself to avoid burns.
As always, adjust the seasonings to taste, and remember, recipes are not set in stone so get creative with your flavors!