Friday Lunch Recipes
On the first Friday of every month, our very own Chandra T volunteers her time to prepare meals for the Freeport Community Services "First Friday Free Lunch Program." Her meals are so delicious, that we often receive requests for her recipes. Please enjoy!
Meatballs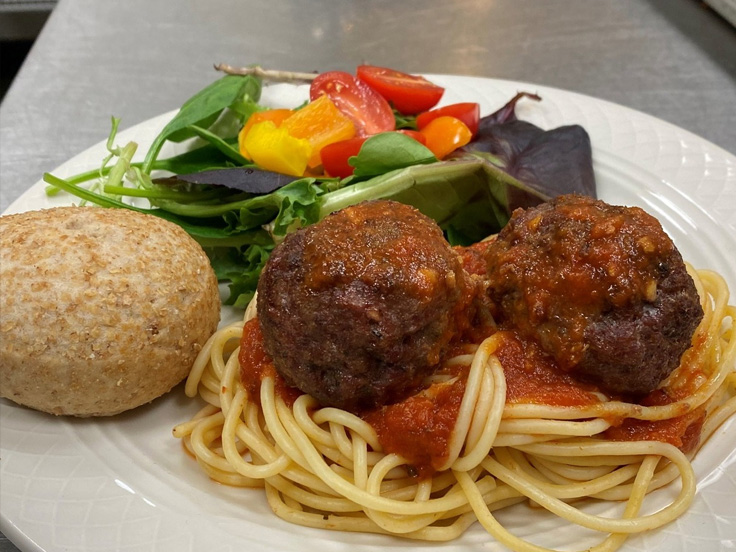 Ingredients:
2 pounds ground beef (or pork, chicken, sausage, etc., or a combo if you want)
1/2 cup breadcrumbs (try panko for a lighter textured ball)
1/2 cup milk (or stock if dairy isn't your friend)
2 large eggs, lightly beaten
1 small onion, grated
Garlic (measure with your heart), grated
1/3 cup chopped fresh herbs such as parsley, oregano, and thyme, or Italian seasoning or any dried herbs you have on hand. Cut way back on the herbs if you're using dried.
1/4 cup grated parmesan cheese (optional)
Kosher salt and freshly ground pepper to taste
Method
Preheat your oven to 450°. Grease a large baking sheet with olive oil, butter, or cooking spray. No need to get crazy, your meatballs will release some fat which will help prevent sticking. Find the largest bowl in your kitchen and dump in all the ingredients listed above and mix through until well incorporated. If your mix feels dry, add in more milk or toss in another egg. Be careful not to over mix the mixture or you'll have tough mini bowling balls instead of meatballs for dinner. Once you're happy with the consistency of your mixture, roll into 2oz (medium sized) meatballs and line them up like good little soldiers on your baking sheet and pop them into the oven for about 15-20 minutes. *Pro tip: make a small tester patty and pan fry it until cooked through before rolling out all your meatballs to test the seasoning. Making a tester patty will allow you to adjust your seasoning as needed before committing everyone to the oven.
Once the meatballs are golden brown, remove from the oven and serve over spaghetti with your favorite pasta sauce. Garnish with parmesan cheese and a sprinkle of fresh herbs if you're feeling fancy.
The great thing about meatballs is that they're so versatile. Use whatever ground meat floats your boat and get creative with your add ins! Curry meatballs, spinach meatballs, meatless meatballs, the possibilities are endless!